---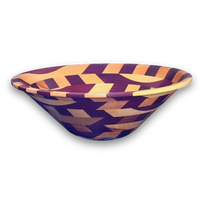 Scottish American Bowl
In the late 1800's a popular style came into vogue among Scottish woodturners in which they created their project blanks from alternating blocks of light and dark woods. In our Scottish-American Bowl we pay respects to that tradition. The warm acceptance with which his American Bowl has been received suggested to designer and woodturner John McLeod that there was an obvious opportunity to salute his own Scottish American experience. Now, which woods to use? Our native Vermont Yellow Birch was first choice for the light wood. What about the dark wood? Scotland, the purple of the heather, got it! Purpleheart! What a combination! It is all that was hoped for. A bowl in the American Bowl style. A construction from byegone days of Scottish craftsmanship. The result is a bright, vibrant, functional designed piece in keeping with our modern times. Use these wooden salad bowls nut just for salads but also for fruit, potpourri or just as a piece on display.
Please Note: Most of our products are available in several wood species, most notably Black Walnut, Yellow Birch, and Cherry. For more info. about which wood is which, visit our complete Information Page.
Our customers are always asking, what do you have for wooden salad servers? We offer Salad Servers and Salad Hands, either of which can add a stylish complement to your bowl choice.
Product Specifics
Available Wood Type(s):
Yellow Birch and Purple Heart
Available Size(s):
14.5" Diameter., 4-1/2"H
Made in Vermont by Vermont Craftspeople
Tough, hand rubbed proprietary finish
Hand wash and dry thoroughly
Never soak or wash in dishwasher
Got a question? Give us a call at (802) 464-5296. We're open 7 Days a Week 10:00AM - 6:00PM