---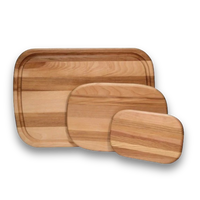 Bridal Cutting/Serving Boards
A perfect gift for someone just starting out, or multi-purpose set for your own kitchen. The three sizes offered are the choice of years of customer popularity.
The smallest board is great for those smaller cutting tasks, like chopping onions or cutting lemons/limes. The medium board is an excellent choice for all of your bigger chopping jobs, and also makes a great cheese board, or sandwich board. The large board (not too big to store away) has a catch groove on one side for juices when carving meat, and the other side is left plain for use as a pastry or charcuterie board.
Please Note: Most of our products are available in several wood species, most notably Black Walnut, Yellow Birch, and Cherry. For more info. about which wood is which, visit our complete Information Page.
Learn how you can have these wooden cutting boards personalized with laser engraving for the perfect wedding gift!
Product Specifics
Available Style(s):
Yellow Birch
Available Size(s):
Large - 21" x 15" x 3/4" thick
Medium - 15" x 10" x 3/4" thick
Small - 10" x 7"x 3/4" thick
Made in Vermont by Vermont Craftspeople
Tough, hand rubbed proprietary finish
Hand wash and dry thoroughly
Never soak or put in dishwasher
A John McLeod Design
Got a question? Give us a call at (802) 464-5296. We're open 7 Days a Week 10:00AM - 6:00PM