---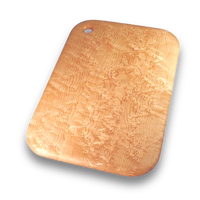 Bird's Eye Large Cutting/Serving Board
In all our products we want to find that magic blend of beauty and functionality. In the case of our Large Bird's Eye Cutting/Serving Board we had no difficulty in achieving both. This board makes a beautiful serving piece, but can also be used as your everyday cutting board. The only problem we can see is that when you present your hors d'oeuvres you may find people remarking about the board rather than your culinary expertise. Let us apologize in advance. However, we are sure that your efforts and ours will blend into a presentation of which we can both be proud. The beveled edges make for a soft friendly effect.
Need to add condiments for your charcuterie? We've got mustard, jam, hot sauce, and more!
Please Note: Most of our products are available in several wood species, most notably Black Walnut, Yellow Birch, and Cherry. For more info. about which wood is which, visit our complete Information Page.
Learn how you can have this serving board personalized with laser engraving for the perfect gift!
Product Specifics
Available Wood Types(s):
Bird's Eye Maple
Available Size(s):
Large 17" long x 12" wide x 3/4" thick
Made in Vermont by Vermont Craftspeople
Tough, hand rubbed proprietary finish
Hand wash and dry thoroughly
Never soak or put in dishwasher
A John McLeod Design
Got a question? Give us a call at (802) 464-5296. We're open 7 Days a Week 10:00AM - 6:00PM