---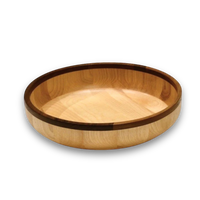 Shallow Bowl
Our Shallow Wooden Bowl is one of our more multipurpose designs. Not only does this bowl work well as a 2-4 person salad bowl, the shallowness allows for the opportunity to place your favorite ceramic dish in the middle and create a chip and dip or crudite. The shape is also handy for your countertop fruit bowl, or to serve warm dinner rolls. Also one of our more popular bowls for those who love to make a hearty one person dinner salad. This bowl has many purposes, what will you do with it?
Please Note: Most of our products are available in several wood species, most notably Black Walnut, Yellow Birch, and Cherry. For more info. about which wood is which, visit our complete Information Page.
Our customers are always asking, what do you have for wooden salad servers? We offer Salad Servers and Salad Hands, either of which can add a stylish complement to your bowl choice.
Product Specifics
Available Wood Type(s):
Yellow Birch With Black Walnut 
Available Size(s):
Serving: 13" Diam., 3-1/4"H

Made in Vermont by Vermont Craftspeople
Tough, hand rubbed proprietary finish
Hand wash and dry thoroughly
Never soak or wash in dishwasher
Got a question? Give us a call at (802) 464-5296. We're open 7 Days a Week 10:00AM - 6:00PM