---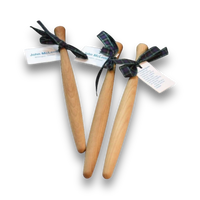 Scottish Spurtle Pot Stirrer
As Scottish as a kilt and without which you don't make real porridge. Perfect for scrambling eggs and the ideal pot stirrer for getting to all edges of the pan. 
A traditional Scottish cooking implement used for stirring, breaking lobster claws, tenderizing meat, and even propping up windows!
Also used as a muddler or ice breaker.
Product Specifics
Available Style(s):
Yellow Birch
Available Size(s):
12-1/2" long x 1" dia.
Oiled with pure corn oil
Hand wash and dry thoroughly
Never soak or wash in dishwasher
Got a question? Give us a call at (802) 464-5296. We're open 7 Days a Week 10:00AM - 6:00PM