---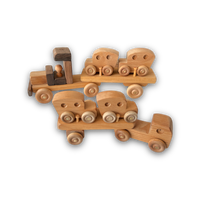 Wooden Car Carrier by D and ME
Awaken the kid inside with D and ME Woodworking's Wooden Car Carriers! Handcrafted in Montana, these unique trucks will bring old-fashioned play and imaginative fun to your kiddos. So hook 'em up, hit the road, and watch the adventures come alive! (Gas not included).
Product Specifics
Made in Montana by D and ME Wood Toys LLP
Made of hardwoods

Each Truck Comprised of 4 Separate Pieces
Small - 11" Long x 5.5" Tall  Large - 18" Long x 6.5" Tall
From D and ME: "The oiled finish we use is on the US Government "Safe Substances" List. All of our wood comes from sustainable forest in the United States."
Got a question? Give us a call at (802) 464-5296. We're open 7 Days a Week 10:00AM - 6:00PM