---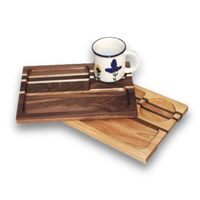 Lunch Counter Board
We have always called these "Lunch Counters" rather than snack or lunch serving trays. When we first produced them we thought they were ideal for that Soup and Sandwich lunch, so the name stuck. Light in weight with undercut handles at each end, and a round recess to hold your soup bowl or even a beverage. 
We have also had many customers who purchase them to use as a small crudite tray. Fruits, veggies, or crackers fit nicely and the round recess holds a ramekin or pot for any dips or soft cheeses. 
Need to add condiments for your lunch or charcuterie? We've got mustard, jam, hot sauce, and more!
Please Note: Most of our products are available in several wood species, most notably Black Walnut, Yellow Birch, and Cherry. For more info. about which wood is which, visit our complete Information Page.
Product Specifics
Available Style(s):
Black Walnut with Yellow Birch Accents
Yellow Birch with Walnut Accents
Available Size(s):
12" x 8-1/2" x 3/4" thick
Made in Vermont by Vermont Craftspeople
Tough, hand rubbed proprietary finish
Hand wash and dry thoroughly
Never soak or wash in dishwasher
A John McLeod Design
Got a question? Give us a call at (802) 464-5296. We're open 7 Days a Week 10:00AM - 6:00PM