---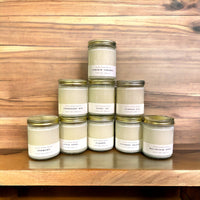 Soy Candles by Hayden Rowe Candle Co.
From Hayden Rowe Candle Co.: "Hand poured in a clear, straight sided glass jar and measures 3.5" tall and 2.9" wide. Incorporating the maximum allowable amount of pure fragrance oil, this exquisite candle is made without paraffin, artificial dyes or toxins like pesticides and phthalates. It's clean cotton wick burns evenly for approximately 40 hours. Hayden Rowe candles are non-toxic and made of 100% American grown non-GMO Soy Wax. Net weight 7oz. 
Hayden Rowe candles contain no animal products, petroleum, paraffin, genetically modified or toxic materials.
For best results burn your candle for no more than 3 hours at a time. With each use, allow the melted wax pool to reach the sides of the jar thereby ensuring the optimum scent and efficient consumption of wax. Burn within sight. Keep the candle away from children and flammable objects. Place on a heat resistant surface as the container will become hot while in use. Keep the wick trimmed to a length of 1/4". Discontinue use when only 1/2" if wax remains as overheated glass may shatter."
Product Specifics

Made by Hayden Rowe Candle Co.
7oz. - 3.5" Tall x 2.9" Wide

Covered Bridge : "Sun bleached wood, tobacco, black tea, pepper, musk"
Macintosh Apple : "Crisp, autumn Macintosh apple"
Apple Barn : "Crisp apple, cider spice, honey, vanilla with a hint of caramel"
Pumpkin Caramel : "Creamy caramel blended with pumpkin with a sweet, mellow aroma"
Cranberry Bog : "Tart and fresh cranberries"
Vermont : "Evergreens and hint of moss and autumn leaves"
Flannel : "Clean cotton flannel scent"
Après Ski : "

So masculine and so familiar. Rich and supple like the familiar scent of well worn leather and mahogany with a touch of tobacco. This candle will give any room in your home the elegant scent of a wood paneled library full of leather bound books."

Slopeside : "

Sultry amber is blended with summer fruits and citrus to create the ultimate luxury fragrance. When nothing less than the best will do."

Powder Day : "

Hit the slopes! Sunshine, citrus, fresh air, musky undertones, and blonde woods will bring a smile to your face like a gorgeous powder day."
Got a question? Give us a call at (802) 464-5296. We're open 7 Days a Week 10:00AM - 6:00PM