---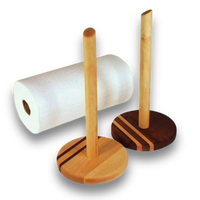 Standing Paper Towel Holder
Our handy paper towel holder fits well on the counter under most kitchen cabinets.
Use it on your outdoor table, and you won't have to worry about napkins that blow away. Simply tear off a paper towel when you need one.
The large base provides stability. 
Please Note: Most of our products are available in several wood species, most notably Black Walnut, Yellow Birch, and Cherry. For more info. about which wood is which, visit our complete Information Page.
Product Specifics
Available Style(s):
Yellow Birch with Walnut accents
Black Walnut with Yellow Birch accents
Available Size(s):
Fits all paper towel rolls
Made in Vermont by Vermont Craftspeople
Tough, hand rubbed proprietary finish
Hand wash and dry thoroughly
Never soak or wash in dishwasher
A John McLeod Design
Got a question? Give us a call at (802) 464-5296. We're open 7 Days a Week 10:00AM - 6:00PM