---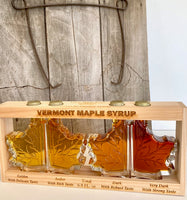 Vermont Maple Syrup 6.8 Fl Oz Gift Set
Corse Maple Farm has been in business since 1868. We are very pleased to add their wonderful 100% Pure Vermont Maple Syrup products to our website.
Product Specifics
Gift Set Syrup Flavor(s):

Golden: Light golden color with a mild taste. Excellent as a table syrup or over ice cream.

Amber: Medium amber color with a more pronounced maple flavor. Delicious on pancakes, waffles, and french toast.

Dark: Dark amber color with a robust flavor. Works great for any of the ideas above or for flavoring in recipes.

Very Dark: This syrup has a strong flavor that works well in cooking, where the maple flavor will carry through to the finished dish.
Got a question? Give us a call at (802) 464-5296. We're open 7 Days a Week 10:00AM - 6:00PM