---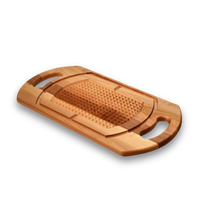 Roast Carving Board
John McLeod watched as his wife Mary Ann retrieved a roast chicken from the oven. Instead of clutching his knife and fork in anticipation, he watched as Mary Ann brought the chicken to the table for carving. In one of those rare moments of paying attention to what his industrious wife was doing he realized that he could design a better board for serving roast chicken and for the carving to take place. Our new Roast Board is the result of John's observations.
Easily picked up, easily carried, with a generous carving area and a deep juice well, all go to make this board a winner for serving roast beef, ham, or pork tenderloin.
As with all of our boards. flip it over and you can use the reverse side as a serving tray.
This multipurpose board is a customer favorite.

Please Note: Most of our products are available in several wood species, most notably Black Walnut, Yellow Birch, and Cherry. For more info. about which wood is which, visit our complete Information Page.
Learn how you can have this carving board personalized with laser engraving for the perfect gift!
Product Specifics
Available Style(s):
Yellow Birch 
Available Size(s):
20-1/2" long by 11" wide by 3/4" thick
Made in Vermont by Vermont Craftspeople
Tough, hand rubbed proprietary finish
Hand wash and dry thoroughly
Never soak or wash in dishwasher
A John McLeod Design
Got a question? Give us a call at (802) 464-5296. We're open 7 Days a Week 10:00AM - 6:00PM