---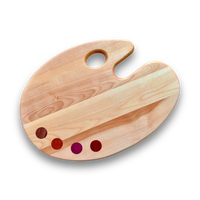 The Palette Board
Be an artist in your own kitchen! Whether for yourself or as a gift, the Palette Board says that the creation of the kitchen contains all the elements of an art form. The sometimes major, sometimes minor accents and flavors, dashes of this and a pinch of that, all are the mark of the artist. A handsome cutting board and a serving piece with flair the Palette Board is a multi-function helper.  All the colors of the "dots" are the natural colors of the woods used, no dye or stain is used.
Need to add condiments for your charcuterie? We've got mustard, jam, hot sauce, and more!
Learn how you can have this cheese cutting board personalized with laser engraving for the perfect gift!
Product Specifics
Available Style(s):
Yellow Birch with exotic wood accent dots
Available Size(s):
15" long and 11" wide
Made in Vermont by Vermont Craftspeople
Tough, hand rubbed proprietary finish
Hand wash and dry thoroughly
Never soak or wash in dishwasher
A John McLeod Design
Got a question? Give us a call at (802) 464-5296. We're open 7 Days a Week 10:00AM - 6:00PM