---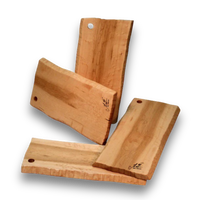 The Vermont Natural Cutting Board
The beautiful coloring and character defects of Bird's Eye Maple Wood make these boards an absolute stunning serving piece. Of course, as with all of our boards, you can chop, slice, and cut on these. Many of our customers use one side for the heavy work and the other side for serving their favorite cheeses and fruits. We enhance the waney edges, giving this board a rustic touch, and it has a hole cut in the corner in order for you to hang it when it's not being used. Whether you are cutting or serving, these Vermonters are ready to work! 
Need to add condiments for your board? We've got mustard, jam, hot sauce, and more!
Please Note: Most of our products are available in several wood species, most notably Black Walnut, Yellow Birch, and Cherry. For more info. about which wood is which, visit our complete Information Page.
Learn how you can have this cutting board personalized with laser engraving for the perfect gift!
Product Specifics
Available Style(s):
Bird's Eye Maple
Available Size(s):
Approximately 15" x 7" and are 3/4" thick
Made in Vermont by Vermont Craftspeople
Tough, hand rubbed proprietary finish
Hand wash and dry thoroughly
A John McLeod Design
Got a question? Visit our complete Information Page...